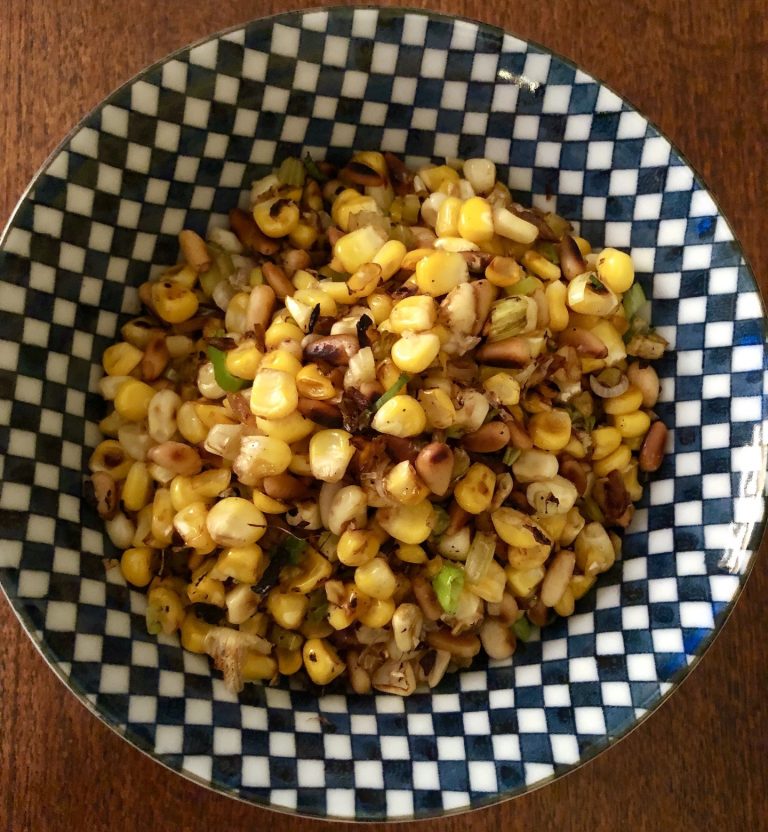 I love fresh corn on the cob in the summer, but I also love to eat corn with rice. I find it a marriage made in heaven. This easy dish of Corn and Pine Nuts is inspired by Northern Chinese cooking. It combines sweet corn kernels with salty celery and creamy pine nuts. It takes no time to cook, and is really delicious with a bowl of steamed brown or white rice. You just need to take care not to over toast the pin nuts at the beginning. Try it
Serves 3               
Ingredients
3
tbsp
Pine nuts ( see Ann's Tips)
1
stalk celery in a fine dice
1
cup
corn kernels (about 1 ear corn stripped)
2
scallions, thinly sliced
Directions
Heat a heavy skillet over a medium-high flame. Add the pine nuts and dry toast for about 2 minutes. or until they just start to turn golden in spots,  Tip immediately into a bowl to stop them cooking. Set aside
Heat the oil in a wok or skillet over a medium-high flame. Add the shallot and celery and stir fry until transparent, about 3 minutes.
Add the corn kernels, sprinkle with salt and stir fry for 2-3 minutes.
Add the scallions and cook  stirring 1 minute then add the reserved pine nuts. Cook stirring 1 minute more. Serve immediately.
Ann's Tip
Pine nuts are expensive. you could try making this with shelled sunflower seeds instead. It won't be as rich, but it will still be delicious. Take care dry toasting these too as like pine nuts, they can burn easily. 
If you don't want to shuck fresh corn, you can make this with frozen, just remember 1 ear of fresh corn= 1 cup frozen kernels.