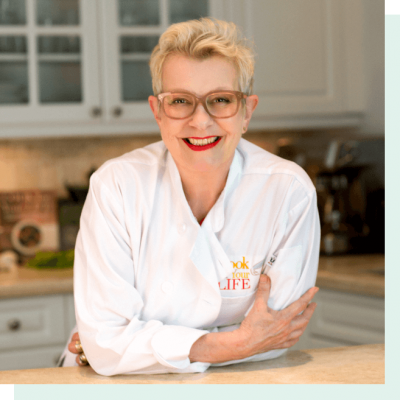 I love to cook and live to eat!
I am a James Beard nominated cookbook author and founder of the non-profit website Cook for Your LIFE. Helping people to love cooking is a passion for me.
I guess you could say I'm a natural born foodie. I grew up around food. My mother was Italian from a family of chefs, and my English dad was a master baker. As kids we always had to help out in the kitchen, shelling peas and the like, and at around 12 years old Mum let me help her cook.
But I didn't start out in food. Before putting on my apron, I spent some 30 years as a fashion designer, with 12 of those years spent living and working in Paris. My work took me to every corner of France and Italy, where I'd spend weeks at a time in factories nestled in glorious countryside.  These travels gave me a unique food education. Every day I got to learn about and to eat the wonderful regional cuisines of France and Italy, and as a bonus, I even got to cook with some great Italian grandmas I got to know. Later on, I spent time in Asia, starting with Japan then Korea and China. I always let my hosts know I was a fearless eater and got to eat all kinds of foods off the beaten track. I loved it.
It was going through treatment for my second cancer that brought me to a career in food. I realized my cooking skills and my wide knowledge of food were giving me choices that made this grueling experience much easier for me than for many of my fellow cancer travelers. Nutritionists can tell you what foods to eat, but you cannot truly make changes to your diet without knowing how to cook them. Cooking is the first step to healthy eating.
This led me to start free cooking classes to teach patients the basic cooking skills that turn fresh fruits and vegetables into wonderful meals. These classes and recipes eventually became the free non-profit cooking site for cancer patients Cook for your LIFE. As of writing, Cook for Your LIFE has taught thousands of patients in person, and helped millions through the website. In 2019 I handed over the day to day running of my culinary baby into the capable hands of my longtime academic collaborator Dr. Heather Greenlee and the Fred Hutch cancer Center in Seattle.
Now that I have more time, I am going back to basics.
Starting in January 2023 I'm going back to basics with Cook!  Cooking is the first step to healthy eating. You cannot truly change your diet without cooking, but not everyone has the skills so I created Cook!  It's a series of 5 easy online classes for anyone who trembles at the thought of cooking or buying ingredients at the market. Cook! will demystify the process and teach you to make cooking great food easy, fun and inexpensive!  It will be a great way to start 2023!  Details to come!  And if you live in the New York area and would prefer to have these classes private and in-person, you can contact me at: info@annogdengaffney.com