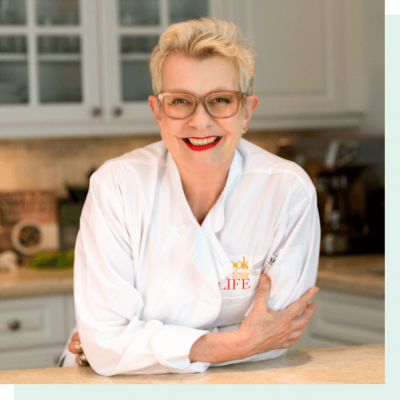 I love cooking simple delicious food that's both good for you and good for the planet. Although I started out as a fashion designer, I ended up creating a major cooking website to serve the cancer community, Cook for Your Life, and became the award-winning cookbook author of the eponymous James Beard nominated cookbook which I wrote using my own experience as a 3-time cancer survivor to help others keep cooking and eating through cancer treatment and on into recovery.
My idea of healthy cooking  is gourmet food, rather than bland, invalid food. My food is informed by both my Italian heritage and by my passion for travel, cooking, and adventurous eating. Before cancer involved me in the world of food and cooking, my long career in the fashion industry had taken me to work, and eat, literally all over the world, first from my base in Paris where I lived for 12 years, and later from New York where I finally settled down.
When back-to-back cancers forced me to take a break from my fashion career, I put my love of cooking (and eating) to the service of my healing, and then found my experience could help the healing and feeding of others I met during my cancer journey. It ignited my love affair with teaching cooking to help people to eat better, be nourished, and stay healthy. There was no looking back. I left fashion to found the non-profit Cook for Your LIFE in 2007 to do just that. As of writing, I have taught some 11K New Yorkers with cancer how to cook, free of charge. 
The cookbook and the company I founded, and the design of my programs all bear the stamp of my passion for good food and basic home cooking. My recipes are not only deliciously healthy, they're easy too, you can see just how easy by watching my video cooking classes  on the 'Cook for Your LIFE' YouTube channel. Whether patients, caregivers or even inexperienced cooks, all can see how easy it can be to get the culinary tools to cook and eat the wonderful, tasty, foods that can reduce cancer risk.
My in person programs for Cook for Your LIFE led to a 10 year collaboration with Dr. Heather Greenlee at New York's Columbia University Mailman School of Public Health and later at the renowned Fred Hutch Cancer Research Center in Seattle. I designed the interventions for two major studies funded by the National Institutes of Health that used Cook for Your LIFE's culinary and food education methods to change eating behaviors in Latinx breast cancer patients. Papers on the results can be seen on PubMed.
In 2019, I decided to step back from the day to day running of Cook for Your LIFE, and that July it became part of the Fred Hutch Cancer Research Center in Seattle under the wing of my good friend Dr. Greenlee. Although I have stepped back from its daily operations, I continue to collaborate with the Hutch on recipes, videos and other special projects.  
Next year, pandemic willing, I am branching out from my base in New York City to offer cooking experiences in Italy. And this summer, watch for the program of  Zoom classes I am preparing to bring my message of healthy delicious eating to a wider audience.  Hopefully next year they will be  in-person.  I cannot wait to meet you!,